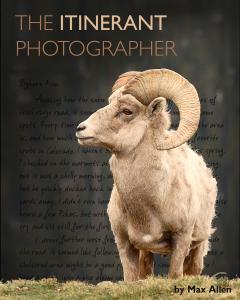 A new book on wildlife photography by Max Allen has been released and is available through Amazon.com at the following link:

http://www.amazon.com/Itinerant-Photographer-Photographs-Wandering-Wildlife/dp/0578054299/ref=sr_1_1?ie=UTF8&s=books&qid=1273956463&sr=1-1

The book, The Itinerant Photographer, is a collection of photographs from a period of five years the author spent wandering across North America in search of wild animals. The travels took him from his native haunts of New England down to the tip of Florida, up and across the wilds of Montana, along the coasts of California, and many places in between. Alongside the photographs is a short essay to fill in the reader on how and where each photograph was taken, along with photography techniques and natural history information on the animal.